This birthstone chart is based on colors that match the Swarovski crystals. There are other birthstone charts that may list other stones.
January

Siam or Garnet
February

Amethyst
March

Aquamarine
April

Crystal or Crystal AB
May

Emerald
June

Light Amethyst or Alexandrite
July

Ruby or Siam
August

Peridot
September

Sapphire
October

Lt Rose or Rose
November

Topaz
December

Blue Zircon
Choker
15 -16 inches
Princess
18 inches
Matinee
20 - 24 inches
Opera
28 - 30 inches
Rope
45 inches or longer
Bracelets
6.5 - 8.0 inches
Anklets
8 - 10 inches
Necklaces shorter than 24 inches should be made with a clasp. Necklace length generally varies with different age groups. Younger people tend to like things smaller and tighter while the preferred jewelry length seems to increase with your customers age.
Extensions can be made using a short piece of sterling silver or gold filled chain.
If you need to calculate how many seed beads you need for a project here is an approximation of how many beads are in each gram of seed beads by the size and shape of the bead. Our 6" tubes hold 22-28 grams of beads depending on the shape of the bead and it's color. The 3" tubes used for delicas and other more expensive beads hold 10-13 grams.
| | |
| --- | --- |
| Bead Size | Approx Beads/gram |
| 11/0 | 110 |
| 8/0 | 40 |
| 6/0 | 12 |
| cubes | 12 |
| delica | 200 |
| drops | 20 |
| Triangle 5 | 14 |
| Triangle 8 | 45 |
| Triangle 10 | 60 |
Crimp beads come in two basic styles. You'll find round crimp beads and tube crimp beads. Each of these styles comes in a variety of sizes. I've pictured an assortment of crimp beads below for comparison. When properly applied, both round and tube crimps hold well. The main differences are in how they look and what tools are required to apply them.
Moving clockwise starting at the 12 o'clock position is a 2x2 sterling tube crimp, next is the #1 Beadalon gold plated round crimp, a 3x3mm sterling tube crimp, a 2x3mm long sterling crimp tube, #2 Beadalon crimps, and in the middle are micro crimp tubes.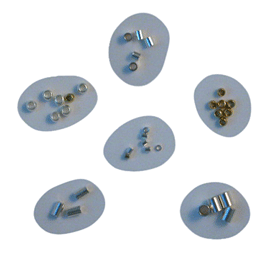 Tube crimps are applied using a crimping pliers while the round ones can be applied by "smushing" them with a regular needle nose pliers. There are 3 sizes of crimp pliers, Regular Crimper, Micro-Crimper, and Mighty Crimper. The 2x2mm or 2x3mm tube crimps are applied with the regular size crimper while the micro crimps require the smaller jaws of the micro crimper, and the mighty crimper is used on 3x3 or larger crimps and it can also be used on the crimp cover beads or the fold over clamp ends used to connect ribbon or suede to a clasp.
Some people apply tube crimps with a needle nose but this is considered an amateur method, it tends to cut the outer nylon coating on the bead wire which weakens it. Flat smashed tube crimps also tend to catch on clothing. If you want a professional look, you need to learn to apply the tube crimps with crimping pliers.
Tube crimps produce more professional results like a jeweler would require. The round crimps are easier to apply and you don't need a special tool. They are pretty fool proof to apply so we often suggest that you start with these. After you get proficient at finishing your jewelry you can get a crimp pliers and use the tube crimps.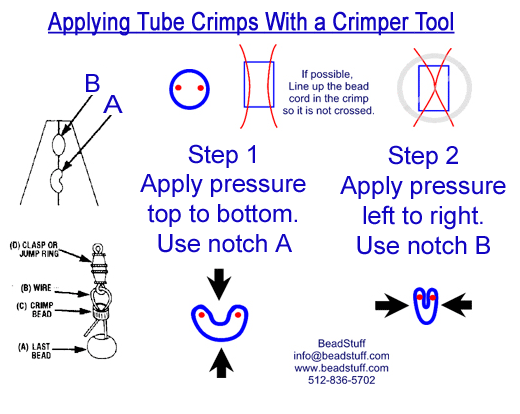 CRIMPING ANIMATION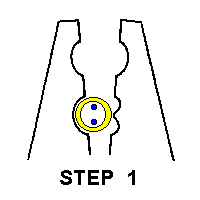 Thanks to W. Scott Bartky, the inventor of the
original patented bead crimping pliers,
for giving us permission to use this animation.
Go To TOP Tube Crimps Round Crimps Crimp Pliers
---
If you have an idea you want to share, send us an email with useful ideas or your favorite tips and tricks. We'll be glad to publish your ideas on Beadstuff.com!