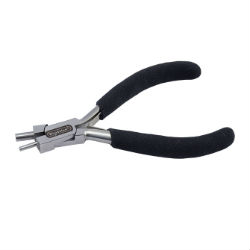 Memory Wire Finishing Pliers
$9.50
With 2 mm & 4 mm diameter ends
Beadalon created the Memory Wire Finishing Pliers to make quick work out of finishing the ends of flat or round memory wire. You'll be able to make consistent loops on memory wire every time with these pliers. Place the memory wire in between the 4mm and 2mm ends of the pliers then bend in either direction (depending on what size loop you want). The memory wire bending pliers can also be used on other bendable craft wire to make consistent loops in either size.

"5 Beads"
Best Value Rated by BeadStuff!